Up until perhaps a year ago, when people asked: "what kind of music do you listen to?" My answer would always be "a little bit of everything, except country". Country music, at least what's popular in the genre today, just represented a lifestyle I personally couldn't relate, or rather, didn't want to relate to. It was so far out of my worldview and identity that I really had no connection to it, and therefore it had no appeal to me.
It wasn't until I listened to Kacey Musgraves' "Album of the Year" winner Golden Hour that the tides began to turn. After hearing endless praise for the album from fans and critics alike, I finally caved and gave it a listen; I was floored. Golden Hour was a country album, but influenced and laced with modern pop conventions. It warmed my cold cold heart and cracked open a pathway for further country music infection.
We're now in the second half of the year and the biggest song of this year so far is the hip-hop/country hybrid banger "Old Town Road" featuring Billy Ray Cyrus; Red Dead Redemption has the entire gaming community wanting to be a cowboy and Kacey Musgraves is still one of the biggest artists to watch, and it feels as though the western/country lifestyle and aesthetic is in the midst of a resurgence. Perhaps however, it's also my own personal taste that is changing; I've warmed up to the sounds of more classic country music and have found voices in the genre to root for. One voice in particular is among one of my favorite new artists this year: the masked cowboy, Orville Peck.
Whether it's the anonymity, the stylish masks and outfits, the deep, sultry voice, the openly queer lyrics, or the old-timey shoegaze sound, there is a lot to distinguish Orville from most any artist in the industry right now. Hailing out of Canada, of all places, you would think Orville is a product of the Midwestern states just based on how effortlessly he croons his way through a myriad of timeless-sounding country songs on his debut album Pony. A paradox of a person as his outward identity is a mystery, yet his lyrics and vocals seem honest and heartfelt.
Orville's initial appeal to me was his style; both in presentation and sound. "Dead of Night" (above) was the first song of his I listened to, and it captivated me almost immediately. His voice sounded classic, reminiscent of the country/folk music you'd expect to see in a classic 1960s spaghetti western. The mask warrants curiosity, it's an artistic statement and according to Peck; was inspired by his desire to be his idea of a cowboy or outlaw— mysterious in nature. An outlaw is exactly what Peck seems to be in the current sphere of country music; the antihero he so admired as a child, bringing about a unique queer voice in a dominantly heterosexual genre. Peck is an enigma, a Canadian cowboy donning a flamboyantly frilly mask and a voice as classic as Elvis Presley or Johnny Cash, his album telling tales of lost love and resentment.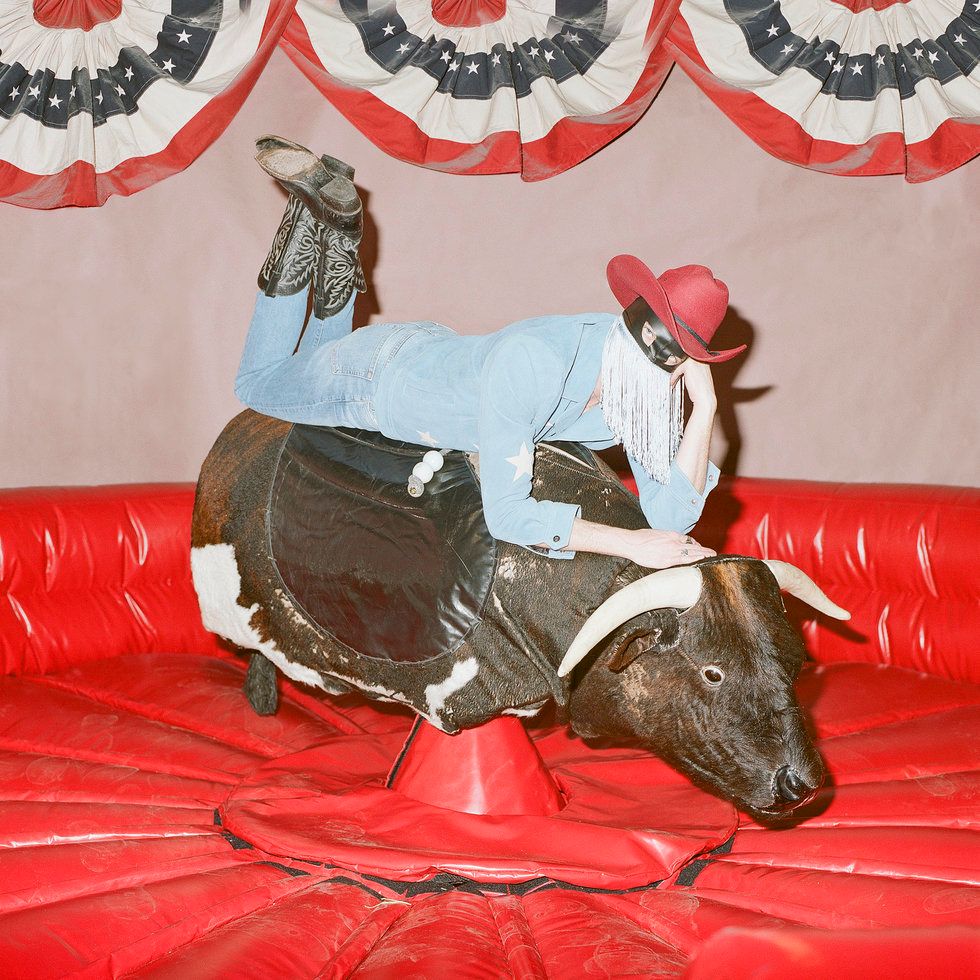 "Dead of Night" reverberated through my mind for days after, his album growing on me more and more with each listen. Each song its own classic movie moment, each with its own tinge of the wild west at varying intensities. "Buffalo Run" sounds like riding a horse alongside a stampede of Buffalo through the wide open spaces of Nebreska; "Kansas (Remembers Me Now)" sounds like it would play from an ancient gramophone within the walls of a saloon; "Turn To Hate", the revelatory moment in an indie western.
It's never NOT been cool to be a cowboy, yet Orville Peck takes it to a whole 'nother level, making it look effortless in the process. Being openly gay isn't the statement he's making, it's just a portion of his identity; it's this unique perspective that makes his music that much more important and that much more impactful. His videos are elegantly shot and conceptual, each one as captivating and ingenious as the last. Rarely are there artists so assured of their brand and artistry this early on in their career– It's like he's got it down to a science. His style and aesthetic unshakeable.
It's safe to say I'm fascinated with Orville, not just as a musician, but as a person. Perhaps it's his goal, it's why the mask is such a strong statement. It separates his actual life from his stage persona all the while, bringing to life an artist shrouded in mystery and awe. Like the cowboys of old, Orville Peck feels like the protagonist in his own classic Western. A crooning mystery man whose intentions seem honest and genuine, and a musician who shows tremendous amounts of potential. He is perhaps the most refreshing country act I've seen this generation and I can't wait to see what he does next.
Listen to Orville's debut album Pony below; works great for: driving (any and all conditions), cleaning, chill get-togethers, crying, cooking, sleeping, swaying, daydreaming about the wild west.